For the non-musician, navigating the wide array of music gear can be daunting. Musicians are known for being finicky in their preferences of equipment, and guitarists are notoriously the most tech-obsessed of them all. There are thousands of accessories ranging from must-have to obscure niches and worthless junk, and even the most basic equipment can be found in varying styles by hundreds of different brands. There are arguably more than a dozen kinds of guitars, and that's before getting into different brands, sizes, and designs. 
A guitar is a wonderful gift for a beginner, but think twice before buying one for an accomplished player as they tend to know exactly what they want. This guide is meant for those shopping for beginners or novice players.
In the first entry of this series, I'll give you guidance on where to go and what to look for when shopping for a guitar as a gift.
---
Types of Guitars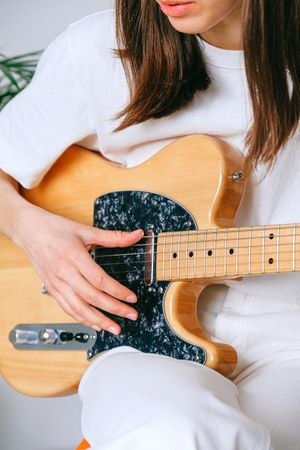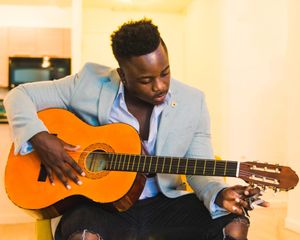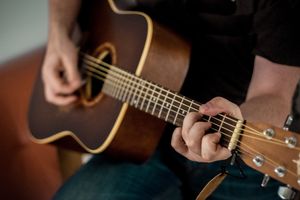 Guitars come in many shapes and sizes, more than most people are aware of, but there are three types that make up the vast majority of the market: Steel String Acoustic, Nylon String Acoustic, and Electric Guitars. 
Steel String Guitars are the most popular type of guitar and are what most people think of when they imagine a normal "guitar." Steel strings give it a bright, crisp, sound that you might associate with country, bluegrass, rock and pop music. 
Nylon String guitars are also known as Spanish or Classical guitars. They typically have a classic figure-eight body shape, and the tuning pegs face rearward rather than out to the sides. Commonly used for classical, Latin, and folk, the nylon strings have a softer, more mellow sound and are most often played fingerstyle, with no pick. The neck is wider and the strings spaced slightly further apart make fingerpicking easier. 
Electric Guitars come in a wide array of shapes and sizes, but are most commonly made from a solid block of wood. The strings are steel, but are thinner and easier to press down than a steel string acoustic guitar.
When shopping for children be on the lookout for guitars marketed as 1/2 size, 3/4 size, and parlor size. While these definitions vary from brand to brand, they all mean one thing - a smaller size guitar that's more comfortable to play. Having a properly sized guitar can make a huge difference.
Choosing between the different types of guitars can be tricky, each type has their advantages. Electric guitars are often physically the easiest to play, requiring very little pressure to press the strings, but there is the added complexity of needing an amp. Nylon string are also easy to push down and a good choice for children, but the wide necks have their trade offs- making "tight" chord shapes easier but big stretches harder. Steel strings are the hardest to physically push down, but often have the look and feel most people are after. They're also the easiest to find. 
Don't forget to take into consideration your recipient and their interests, especially children. A child with their heart set on a red "rock and roll guitar" (that's a real quote, btw) might scoff at a wood-finished Spanish guitar. Enthusiasm is a big factor in whether or not a student will stick with an instrument in the long run.
---
Where to Shop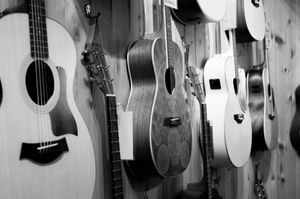 Whenever possible, I encourage you to support your locally-owned music store, and not just out of the goodness of your heart. There are a number of advantages to buying close to home from people who know the trade. 
Many guitars need a little fine tuning to play their best, even brand new ones out of the box. Most guitar shops will have an in-house technician (known as a luthier) who does repairs, and a good shop will give each guitar a once-over and make any necessary adjustments before the instrument hits the floor. Even if they don't adjust every guitar, the staff are more likely to notice guitars with problems and pull them from the floor. Just like with anything factory-made there is a certain percentage of duds, and you're less likely to get one from your local shop. Shopping local has the added benefit of making returns or exchanges much easier. 
Don't fear used guitars, you can often get a big discount by buying used. As long as they have the minimum amount of care given to them guitars don't wear out, they just gain character!
Buying secondhand from a private seller can be a gamble if you don't know what to look out for. Most of the time you'll probably be ok, and many issues can be repaired, but there are some fatal flaws that can outweigh the cost of the instrument to get fixed. If you have a friend who knows guitars, see if you can enlist their help.
---
Where Not to Shop
Be wary of buying instruments online. There is quite a bit of precision involved in making a functioning guitar, and many of the cheap ones online amount to little more than toys. I've unfortunately had students come to lessons with guitars that were literally unplayable. That being said, if you buy from a reputable brand like Fender, Yamaha, Ibanez, Cordoba through a reputable retailer you'll more often than not end up with something good enough for a beginner. 
You may see guitars in big box stores (Walmart, Target, Costco), don't buy them. Just don't.
 
---
Budget
If shopping for a young beginner, a reasonable budget is roughly $100-$300. Avoid anything under $75 unless you trust the seller. If buying electric, don't forget  to factor in the cost of an amp and instrument cable. You should also factor in some extra for some basic accessories like a bag and a guitar stand. (More suggestions coming in the next blog post.)
---
Another Approach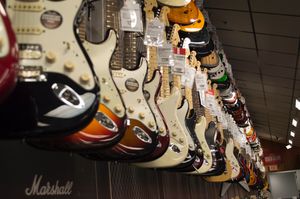 While it may lack the excitement of a dramatic reveal, you may want to consider going with a gift card (or a homemade gift certificate promising a trip to the guitar store) and letting your loved one pick out their own guitar. For many people, kids included, a guitar is a matter of personal style, and they may have very different ideas than you about what they want out of a guitar. 
Having the recipient come shopping also allows them to try out the guitar - even if they don't know how to play they can sit with the guitar and get a rudimentary feel. Some electric guitars are very heavy, many acoustic guitars are too big to be played comfortably, a good salesperson will help you explore your options and help them find something in the appropriate size and style. The memory of the trip may be just as exciting, if not more so, than a big reveal with a red bow.
---
My Personal Recommendations:
Favorite child-size electric: The Squier Mini Stratocaster
Favorite child size nylon string - The Cordoba Protegé line has quality 1/4, 1/2, 3/4 size guitars
Child size steel string - Yamaha JR-1, JR-2, or the Acoustic-Electric APXT2
All Around Brand - Yamaha
Local Portland Area Store - Trade Up Music 
---
Brands to Avoid:
First Act, Johnson, Dean, Daisy Rock, Esteban, Pyle, or No Name
---
Final Thoughts
In the next entry of this series I'll go over popular accessories and other guitar-related gifts.
The best guitar-related gift is, of course, Guitar Lessons! A Guitar Lessons gift certificate is the perfect gift for a new player or the hobbyist ready to take their playing to the next level. The Milwaukie School of Guitar is open for remote instruction, with in-person instruction set to resume as soon as it's safe to do so. Fill out the contact form to order a gift certificate today! Mention this article to receive 20% off your purchase!